Weeknotes 1
We've spent the week with my parents. N- is really enjoying playing in their garden and having more people to play with. During lockdown he said to me "Daddy, I want more people". I could relate to that.
My parents' garden is a joy. It's not large but over the years they've developed it into separate zones (I'm not sure this is the right gardening term) and it feels much larger. I think there's two things N- enjoys about it. Firstly it has a path looping around that he can run laps of. Secondly every time he looks at part of it, things have changed. The cats are in a different place, the fish in the pond have appeared, or there's a new type of insect on a flower.
F- was born during the first week of lockdown. It's really good to have some extra pairs of hands to help with things and the chance to take the odd break.
Unrelated bullet: Sit and Sip in Wokingham has a good selection of beers from local brewery Siren.
I've been working on a staked chair from Chris Schwarz's The Anarchist's Design Book on and off for about a year. I'd managed to make the seat and legs, and roughed out the spindles. I'd failed a couple of times to steam bend the crest rail, and when F- arrived I had to stop working on it. With Dad's help and access to his lathe this week we turned the tenons on each end of the spindles and finished a band-sawed crest rail. Given that we've been sitting on it for a couple of days, I'm going to call it a chair. It's made from London Plane sourced by Bruce Saunders from a park in Euston.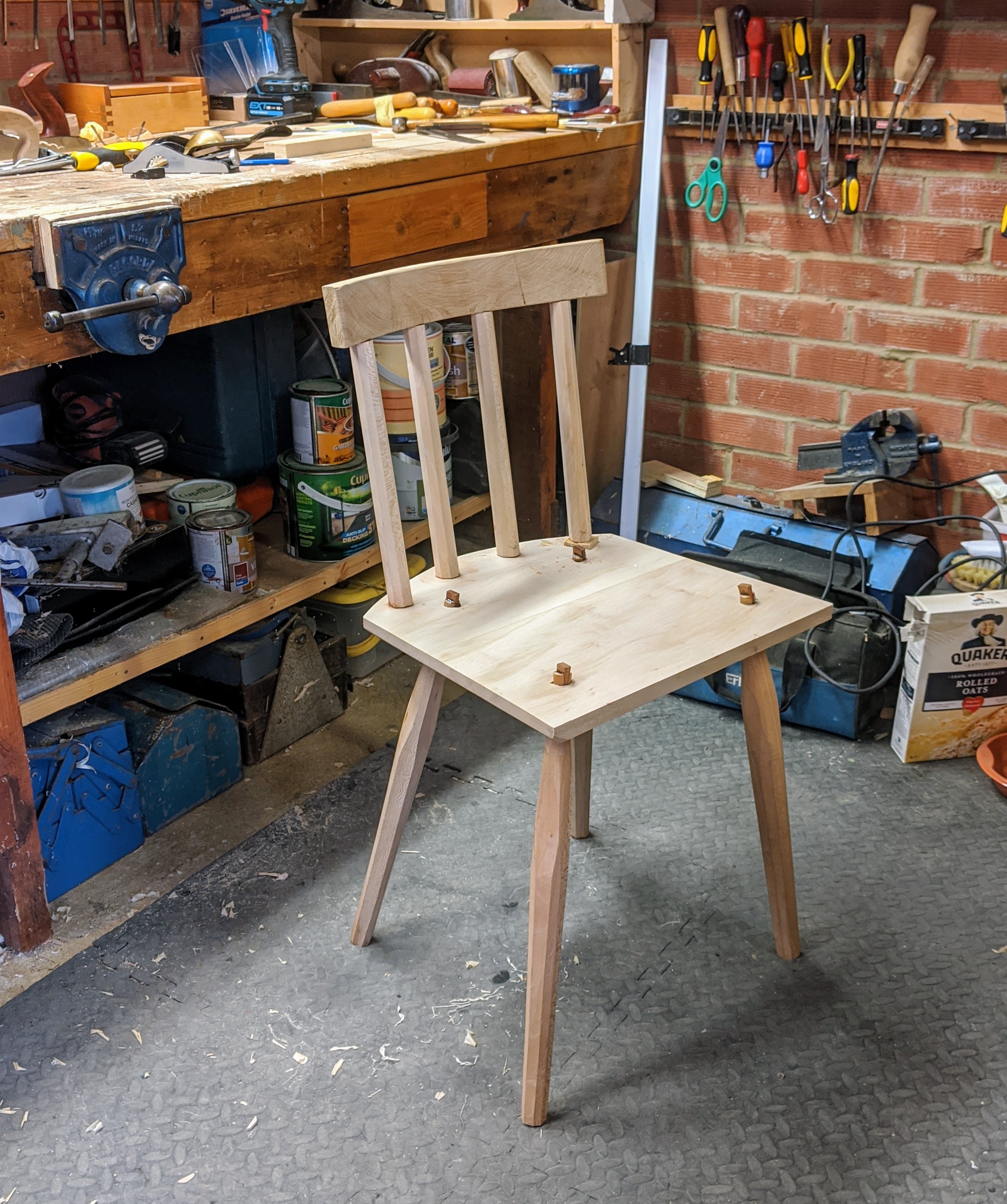 I have the material to make another and hopefully I'll be able to get back to Blackhorse Workshop before too long.
I stripped out some stuff from this site including Google analytics (which I never looked at) and Disqus (which annoys me everywhere else I find it). I'm hoping to indiewebify things a bit more following m'comrade James's example. I'm writing this post in iA Writer on my Android phone, having checked out the source using termux. This works ok, but I'd be interested to hear about alternative, carrying-a-sleeping-child-in-a-sling-friendly ways of working.