Weeknotes 5
Avid readers of my domestic enumeration will recall that we've temporarily moved out of our flat while some brilliant builders rebuild our bathroom.
I find it even harder to work from the temporary accommodation than I did from home so this week I decided to take Outlandish up on the offer of a desk.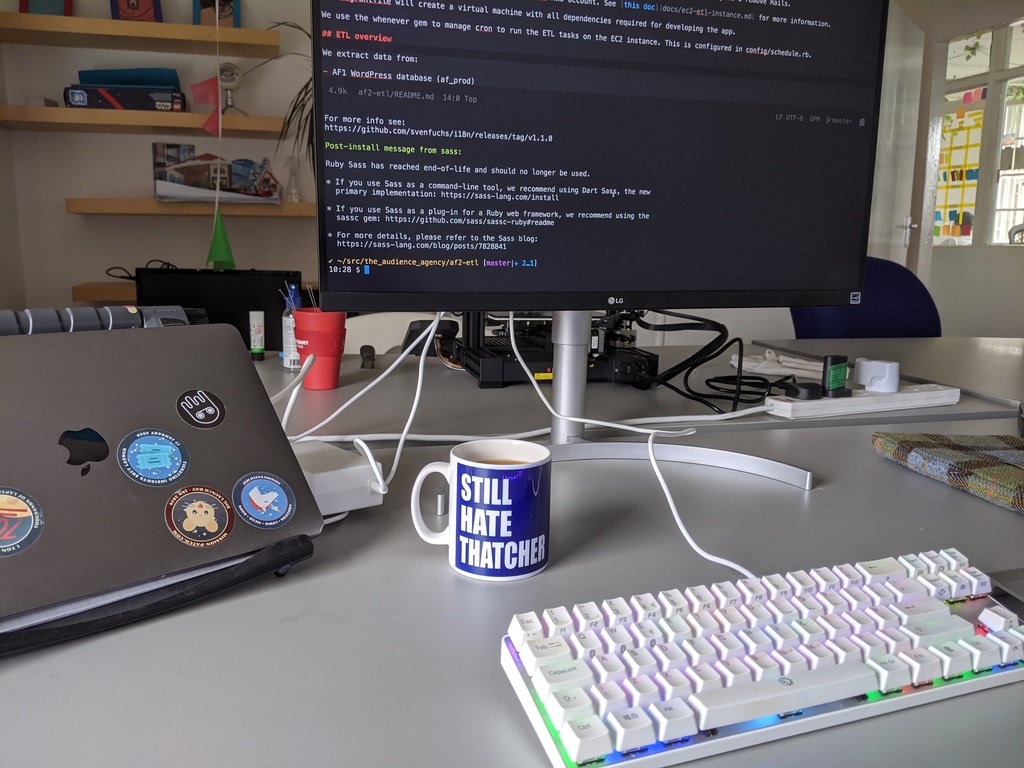 The office is mostly empty but there are people from two other co-ops working from there who I enjoy spending time with. We're doing our best to keep social distance, and I am able to walk to and from the office. I feel so much happier having a bit of company and much more productive with a clearer separation between work and home. My wrists and back are thanking me too. On balance it's a big improvement for me but I also can't shake the feeling that I'm part of the problem.
I've had conversations with another co-op about how best to write policies and with Space4 about how they might become a co-op in their own right. I enjoy being able to spontaneously make time for these kind of things again.
My computing setup got some new-term love this week too. I started using doom emacs to replace my rag-tag old configuration files. I'd dismissed doom in the past because of its emphasis on vi-style key bindings (I'm too old to change now). But it turns out you can disable those. So far I'm impressed with the startup time and the fact that things like terminal emulation "just work". Once I'd added some of my familiar key bindings it soon felt comfortable.
I've also started taking notes using org-roam. It gives me daily note pages and easy wiki-like linking (with backlinks!). This again feels like a step up from my homegrown note taking system.
I've never been a big fan of nightclubs, but I've been day dreaming about going to one. Being surrounded by 100s of happy people in a confined space and not worrying about anything feels fantastical at the moment. And I want it.