Weeknotes 30
I celebrated my birthday yesterday. I was able to do more than last year, but things are still quite restricted. Nevertheless, we had a round of crazy golf in Acton Park with my friend Dan and his family. We picked up a couple of pizzas from a local pizza place too. Good times.
As well as some delicious birthday beers, I got another nice surprise in the post this week: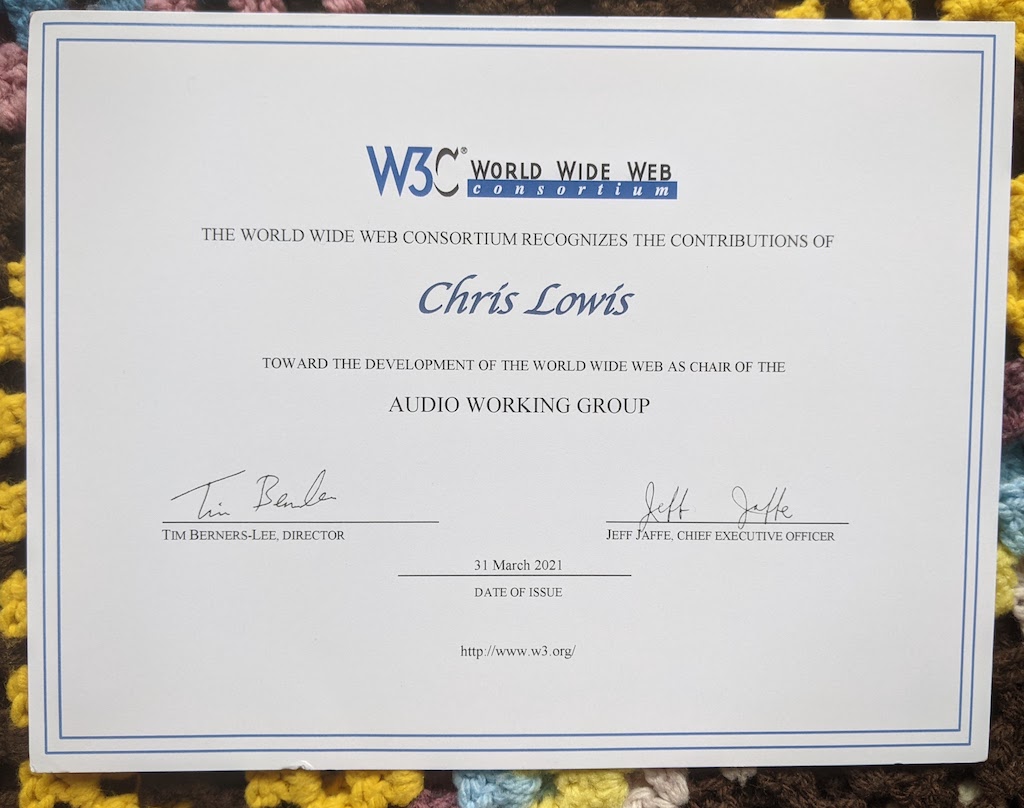 The Web Audio API was reached "candidate recommendation" status in January so I think the W3C have been thanking everyone who was involved along the way. I was really touched to receive this certificate, especially given the small part I played in the whole thing - it was a very nice gesture.
We've been busy getting the thing we're making with the Raspberry Pi Foundation ready to share more widely. We're aiming to invite some people to use it on the 20th April and having a deadline has focussed our prioritisation a bit. It'll be great to be able to talk about it in more concrete terms.
I spent a couple of evenings adding some more features to thunk my norns sequencer. I've been able to reuse some of the patterns I developed working on a Rust sequencer last year, and norns has some useful building blocks (e.g. MIDI grid i/o, a sampler library) that means things are going a bit faster. I implemented swing and allowed tracks to have up to 64 steps, and I'm already able to use that to make some longer and more interesting-sounding rhythms.
I'm looking forward to seeing my brother on Friday for the first time since August. We might even have a pint outside a pub.